Dirt Track Racing News
display pictures of local racing...




The Racing News is presented by Henry Race Engines, Butler PA.
Second Chance Race Schedule and Results Page...


5/03/19 Press release - Race for Vets program:
The "Race for Vets' program is a simple non-profit, non-donation supporting endorsement for all armed forces veterans throughout the WPA area.
This is not connected, nor endorsed by any veteran organization and it is not a donation collection agency. We don't want money, we want to say thanks.
Gary's brother Sean Churchfield is a Desert Storm Veteran. Gary's Grandfather is an Army Veteran. His Churchfield hertiage comes from relatives who have served
in all major wars including WWI and WWII along with the Korean War. He has two uncles and an in-law who are proud military veterans.
Many good friends and area neighbors, also will sign the car. These veterans are welcome. Gary simply wants to focus on them all.
Veterans are invited to walk up and sign the sail panels on the 2c Racecar. There is no obligation and no better way for Gary to say thanks.
It is that simple. For additional information see the Racing for Vets link on the "home page".
And thanks for your support...


3/08/19 News Release - Shirts are Designed: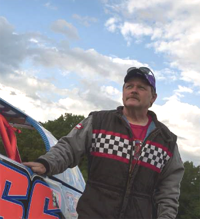 The toughest thing a team can do is prepare a racecar for the new season. Professionals have
full time teams and managers who cover their shop from front to back. That can be said for some
amateur teams with unlimited funds. Remember, those teams that have many years, many wins as
would the Joe Kelley team with more than 150 wins to their credit, they attrack the sponsor money.
Stan's Transmission group has been around dirt and asphalt for decades, supporting teams like Kelley.
Joe Kelley is a consistent winner at Lernerville and pretty much every local WPA track I can think of.
Joe is what we call a veteran...and a damn good one at that. Area race fans enjoy watching Joe do
his thing at Lernerville on Friday nights We can only hope he will return to Latrobe Speedway this season.
For teams like the "66", off season is welcome break and preparation for the new season is not as hectic
as it is for teams like the "2c" where Gary has to rebuild from scratch. The late model he drove up until
2006, was sold when Gary started his family and took time off from racing. Now he has two daughters, one
is a second grader and the time has come for Gary to get back behind the wheel.
That said, there is so much to do and we have no team. There is Gary, myself (Church) and occasional help from
James Bertges. We have no official, steady team members and I doubt if we will find too many of them in
Plum Boro.
One can only dream of how much work it takes to totally refurbish an older chassis, all while working full time,
designing "team shirts" and actually producing them on in-house equipment. Meanwhile Gary still has to raise
a pair of great kids and keep up with the normal side of family life. As for Church, he works on the car nightly. but
at 76 years old, it takes a lot to keep up with all the work and still manage a website like this one.
Churchfield Racing will be at latrobe this season...it will take some time to get back into the top five again, but
trust me, we will be there.
Meanwhile, here are the shirts we have to offer. Not as fancy as most, but we offer them at a reasonable price
and they are quality. It will take time to generate fans, and I doubt if we will ever reach the level of the "66" car
but we plan to have fun and enjoy the passtime we work so hard at. Take a look at our shirts and thanks for
your support...