We want to thank the United States military and all our Veterans.

Gary Churchfield owner/driver of the 2c Street Stock would be honored if all veterans, who attend events where the 2c competes, would you please sign your name
on the car.


This is not a fund raiser. This is a token of our thanks to our military for your service, then, now and forever. Gary's brother is a Desert Storm Vet and Gary wanted


to show his appreciation. There are other veterans in the Churchfield family who have served. Gary's uncles and his grandfather are all vets. Church had an uncle
who served in WWII and two cousins who served in the Army.
May 5th: The first to sign were friends of the family, Members of the USMC.
(1) SGT Barry "bear" Phillips - USMC
(2) CPL John L Williams - USMC
Both these gentlemen served their country from overseas.



CPL John Williams SGT Barry Phillips 2c Driver Gary Churchfield PFC Harry "mike" Hastings
5/5 - Seargent Philips signs first on the RH sail panel. Barry served in Europe during the 70's. John Williams was a Vietnam Vet. We had a good time listening to Corporal Williams and Seargent Phillips as they shared their service stories with us.
5/9 - Gary's Grandfather, on his mother's side, signed the car. Harry "mike" Hastings also had a house full of kids. Two of his sons, Gary's uncles also are veterans.
We hope to add their signatures next time they are in town.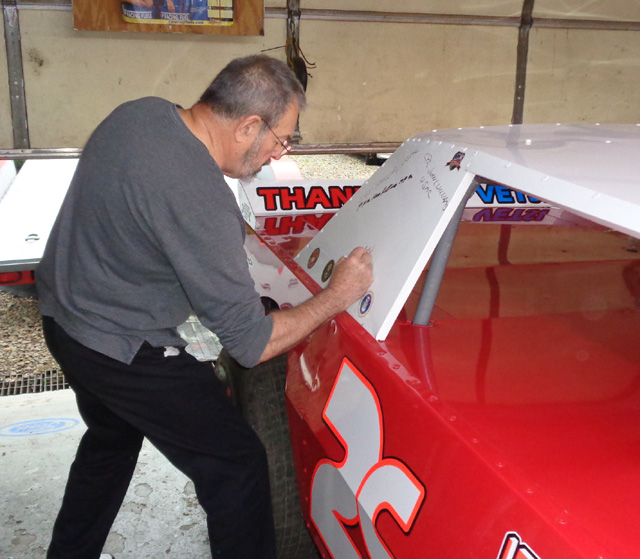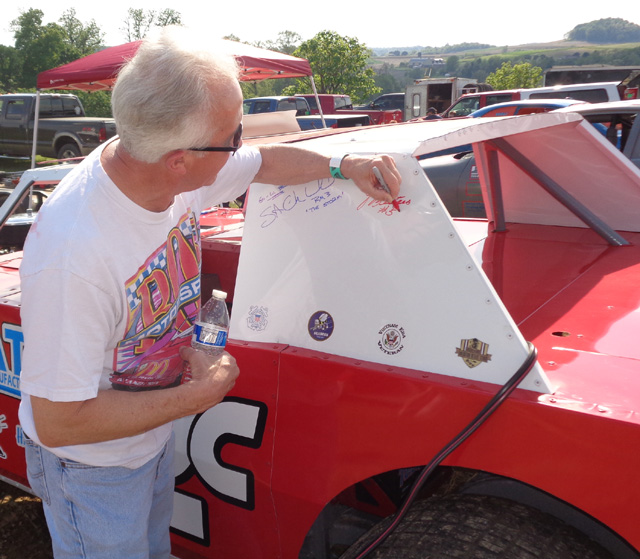 MM2 Jim Makin USN Jimmy Bertges
5/13. Neighbor friend Jim Makin signs the 2c. Jim was a Master Machinist for the Navy and served off shore duty in Vietnam. Not only did Jim serve his country, he served his community for many years at the Plum Borough Police Department. Jim was a "first responder" and was well liked as an officer in the community. Thanks for your service, we are proud to have your signature on the 2c.
5/18. Jimmy Bertges Vietnam Vet and long time dirt modified racecar driver, signs the 2c. Jimmy raced the No. 50 for 3 decades winning over 100 features. His son, James is on the 2c race team.
Jimmy signed the car at Latrobe Speedway.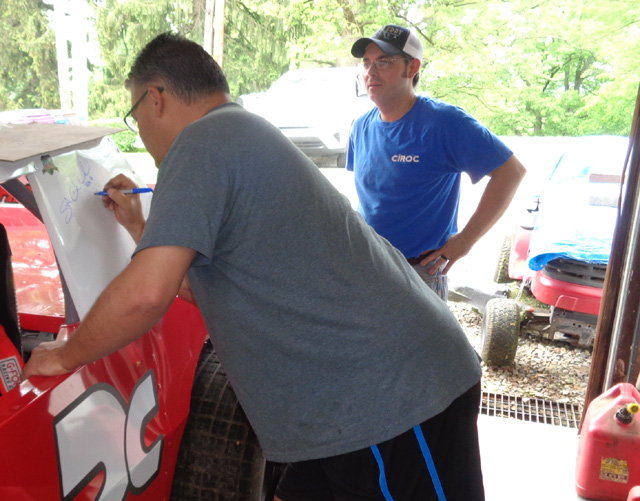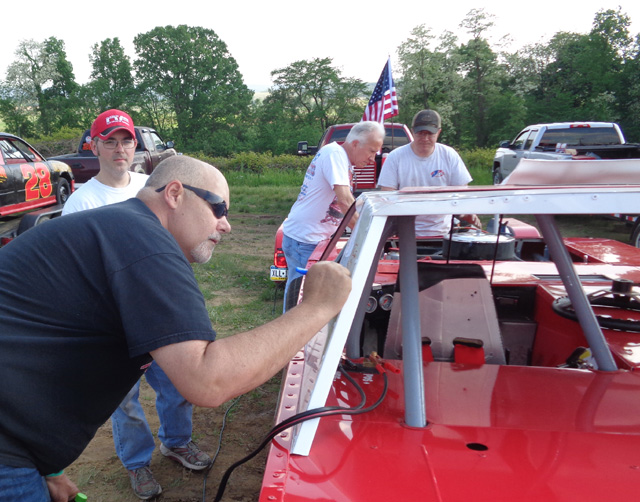 BM3 Sean Churchfield, USN RM3 Pat Wheldon USN
5/18. Gary's older brother Sean signed the car before we headed to the track. Sean served during "The Storm" and saw action in Iraq. He is the first born of three brothers
and a sister. Sean has a family of his own with two wonderful children. I am a proud father...as you can tell. The Churchfield family served this great country during three wars.
5/18. Radio man for the USN, Pat Wheldon signs the 2c. The Wheldons are a very successful Pro Stock race team. Todd has several wins and championships to his name.
Teams like the Wheldon's will certainly make Penn-Ohio Pro Stock a challenge for any "old school" Street Stock race team like us. We are blessed just to race with them!!
Nothing seems to change except the names and faces. Veterans from 100 years of fighting around the world, can be found at local race tracks across America.

Just say thanks!! Welcome them, that is all we ask...

Who is next??

We want to thanks these great Veterans for helping Gary kick off his 2c Racing for vets program for 2019.
~~~~~~~~~~~~~~~~~~~~~~~~~~~~~~~~~~~~~~~~~~~~~~~~~~~~~~~~~~~~~~~
Please note: We do not take donations for Veterans groups. We do recommend, if you plan to donate to a group, please visit these websites
Below and choose one that best suits your needs:
-
Navy-Marine Corp Relief Society
-
USO
-
Wounded Warrior Project
-
Fisher House Foundation
-
Disabled Veterans Charitable Trust
(DAV)
-
Vet Friends
If in doubt, this is where you start...