CHURCHFIELD WHITE PAGES

Stock Cars on Dirt 101
White Pages are articles and
lectures written about a subject.
You don't need an Interior Designer.
Your garage out-back will work just fine.
What is best for a Novice?
You must make the decision...
ESI has been here for you
A basic racecar chassis design is not
as hard as you might think. Many novice
builders have done very well building
pure stock or street stock racecars.
Roll your own custom body.
The body is very important.
There are several design possibilities
Or you can purchase one on-line.
The flippped banner R2-C3
What are white pages?
White pages can be written on any subject about any thing that may be scientific or relate to engineering.
The subject in this case is racing and in particular racing on a dirt oval track. These white pages touch mostly on the use of a Stock Car chassis for racing. Such stock cars are frame based cars with a solid rear axle and a wishbone front suspension with unequal control arms which retain a steering spindle attached top and bottom.
These cars are "pure stock", "street stock" and "pro stock".
~~~~~~~~~~~~~~~~~~~~~~~~~~~~~~~~~~~~~~~~~~~~~~~~~~~~~~~~~~~~~~~~~~~~~~~~~~~~~~~
The race shop...
Without going out of our way we must establish a set of basic tools that you will need to build your racecar. There is no reason why you cannot build a contender out of your basement garage. It does not require a large shop with a lift or an oversized compressor, but there are some unconventional items that you will need to build a decent chassis if you wish to compete.

There is a white page file on this server that you can read. The basic requirements for a home garage are a small medium HP air compressor, a 220 VAC outlet for a 150 AMP MIG welder, and at least 30 AMPS of 110 VAC for power tools.
The tools you will want can be most any set of good wrenches, ratchet sets, hand tools (screw drivers) and of course hammers and pliers. You know what these tools are, and you probably have a decent set already. A set of AN wrenches and a torque wrench will be handy.

The special tools are where you will spend your money. You will want a set of racing scales and a set of toe plates. You will need a caster-camber gauge, and a quality set of taps and dies. If you have the room, you will need a sheet metal brake and some kind of a press. Don't forget the engine stand and a basic tire machine. One, 1/2 inch drill press will be required.

The shop layout is not important, but you will need a parts inventory so try to keep that separated from the shop interior.
Import your equipment list
Download a CSV template with one click
Import your equipment/device list to be commissioned with a click
Dynamic type-ahead search to find specific equipment/devices
Batch-assign device types and system IDs to your equipment
Your body system will require
a learning curve...
I have uploaded a well documented "street stock" body build "white page". This was modified from
an earlier article written by Jeff Hunneycutt from a Hot Rod magazine article [PDF].
The requirements to build must first conform to your track rules, however meeting these rules is not always possible. So we show you some tricks and offer a few tips along the way.
You need an aluminum sheet metal brake. The shortest brake you can use to build this body will be 72" wide or six foot and must be capable of bending 2.5 MM material. The sheets of aluminum that are used today are 10 foot by 4 foot and 1.5 MM (0.60) thick.
A standard Street Stock door panel will require a single sheet, 72 inches long by 38 inches wide. The
extra long width allows for double folds top and bottom for strength. Generally, you will need eight
sheets of aluminum to complete a basic stock car body.
For a Novice, there are three choices:
Pure Stock, Charger or Hornet Stock...
The choice begins at your track. The promoter runs at least one entry level class. These are support classes. They reinforce the headliners and intermediates. These could be Sprint Cars, Late Models or Modified racecars. All of these come in various configurations. SUPPORT DIVISIONS run after the headliners. Your "stock car" will run late in the show, or it may run
last each week. That is up to the promoter. He may give you a chance to headline for a special event.
You will have to choose your class based upon your budget and your driver experience. Let me help
you decide...build safety first. No matter what else you do, consider your life depends on what you
fabricate. I don't like "hornets" (basic uni-body junk). Yes, four cylinder racecars or compact trucks
(with frames) are fine and can be a lot of fun; "cheap shit" uni-body cars are "dead" dangerous.
Frame chassis racecars can be built strong and reasonably safe. You should never depend on the
body to protect you!! Build the car as if your life depended on it...
Be smart, choose a V8 Pure Stock or Compact Truck 4 or 6 cylinder with a frame chassis.
If your local track does not run these classes, look elsewhere to race (period)
GM Metric
chassis
design criteria.
Roll your own or purchase a rolling "G" body stock race car such as a Monte Carlo, or Cutlass.
There are a few of these remaining and many are in decent condition. You don't care about anyhting but the chassis. Is it rust free, is it straight, has it been badly abused??
The GM metric chassis is a solid axle rear driven car, with an unequal control arm imdependent
front suspension. These make ideal dirt track stock cars.
c2r1
The Street Stock chassis...
View your most important metric chassis features here. There is a White Page section dedicated to builders and building for yourself. The DIY concept is unique and I will walk you through the hardest parts. I will help you decide, roll your own or buy a chassis cage kit.
The "roll cage" kits are available on-line. The most popular comes from CSC Racing. Canadian Stock Car a division of Bicknell Racing. They have a basic cage kit model 1502 that is the perfect foundation of a quality GM metric chassis. All Star performance makes a starter kit for "pure stock" racers and is reasonable in price.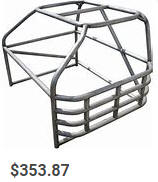 This kit is available from All Star or one of several suppliers on-line.
You can install this kit into your frame using a modern 150A MIG welder.
It will become the basic foundation for your "pure stock" entry level racecar.
You can build a safe car around this cage. You will add bars front and rear.
I will show you how in the actual "white page" available here.
Both CSC and All Star have a very well represented documentation for complete installation.
Here is the basic kit. This will be centered over your stock GM metric chassis and located along the L/R rails.
View the contact list here:
The following email address is a posted image. To contact Church please type the address as displayed.
Terry Churchfield -


Gary Churchfield -


James Bertges -


Contact Gary and or James on FaceBook
Contact Church on Parler -


The contact page address uses the MyPopMail server application. Please use this when you ask general questions or you desire to submit information.
Church's white page index:
The index of available PDF files: You must have Acrobat Reader installed.
~~~~~~~~~~~~~~~~~~~~~~~~~~~~~~~~~~~~~~~~~~~~~~~~~~~~~~~~~~~~~~~~~~~~~~~~


The 48/52/54 initial setup. A good place to start after your build.


FL-L43 remote control circuit diagram.


next


Recipe: Gampo's vegie soup. A basic OOC meal that tastes great!


On the Site. These files are located on this site unless otherwise specified.
See our calculators located on the master menu.
Show our colors. When you finish your stock car, make sure you endorse
the suppliers and manufacturers who support your distraction and our amusement.
Racing is a true celebration of grass-roots-family-style engineering.
STREET STOCK FOREVER
Albert Einstein said… "The definition of genius is taking the complex and making it simple."
That's the approach we take for every racecar we build: It is a family affair...
Racing is done on the track, design, repair and maintenance is done in the shop.
Stock Car racing is true "grass roots". Its beginning traces back over a century ago.
Simple yet meaningful accomplishments are the results of racing Street Stock racecars.